Close up of Jason with the new 10.5 inc barrel on the range.
Well Jason got back this week from his business trip and thought it was about time to send in to the team some more photos from his work trip, itís a hard job but someone has to do it. Now I know these are not Vietnam based but after all we are called Modern Forces so why the hell not. This year show had some unexpected things in store for me including the chance SOG meeting that has been posted in the news section already, a cool press trip, an afternoon shooting with Wild Bill from www.vietnamairsoft.com hanging out with the crew from www.spartanimports.com and meeting the now Ex US President George W. Bush and thatís just the extra stuff not including the show!

Jason getting some more lead downrange. (Does my look big in this?)
So letís get down to the gun stuff. As I said above LWRI had a press trip and I was very lucky to be able to go, thanks must go out to Andrew Hoe from www.airsoftextreme.com for doing this. I had a blasted on the outdoor range and had a good chance to see the full range they have on offer from LWRI www.lwrci.com I thought you would like to see some photos from this season.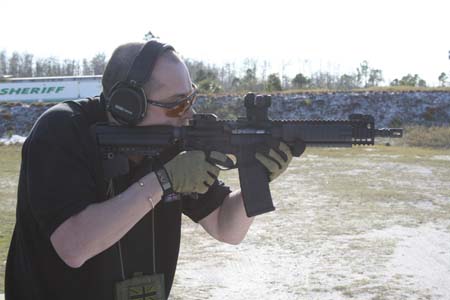 Paul also getting some trigger time at the LWRCI range in FL USA.
In addition to the real deal LWRCI being out in the market right now Classic Army are bring an Airsoft version out as I type, so keep your eyes for that at www.spartanimports.com or www.airsoftextreme.com but in the mean time he is a photo for you.
Back at the show I ran into a face I have seen before from across the pond and thought the readers of this site would like to see.