This is a reproduction SOG 1-0 vest, the original were worn during the 67/68 period and were made from heavy canvas in Olive Drab or Khaki, though some seem to have been dyed black. The pockets would contain items such as compass, signel flares, IV tubes, maps (in the zipped inside pockets) , pistol magazines (as described by Lynne Black in his interview here) We don't know this for a fact but I would assume these were mae by CISO like all other SOG procurred items though I don't know this for a fact. Again we am pretty sure these were not just issued to teh 1-0 in team, like the 1-0 jacket it seems to be a term used for a general use jacket.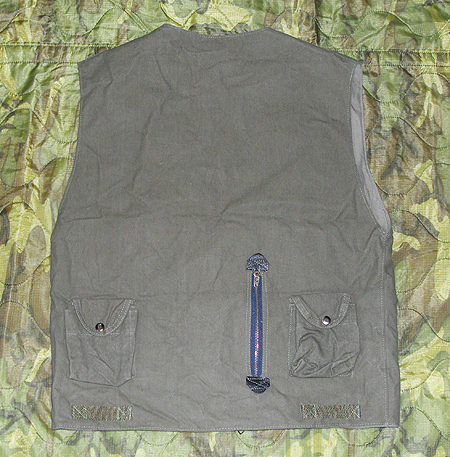 The vest has a zip closure and then 3 leather straps that close with snaps, I beleive this was done so that you could were the vest with the zip undone as there were complaints that it was hot. This can be seen in the photo below, the vest is worn with the zip open.
This reproduction vest isn't perfect, the canvas is too thin and it doesn't have the adjustment straps at the bottom. Just a nylon strip. A real 1-0 vest is shown below.